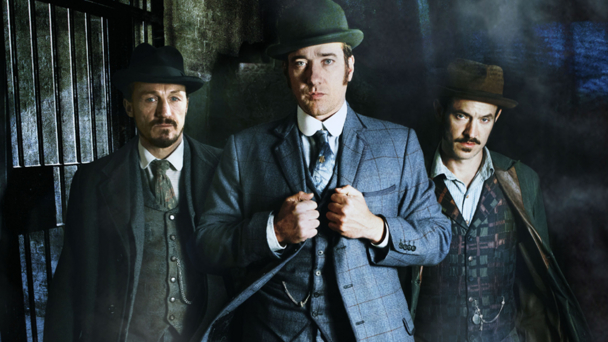 Inspector Edmund Reid – Matthew Macfadyen
Series two finds Reid very much alone in the world. His home is filthy and untended and he sleeps most nights on the day-bed in his office at Leman Street. However, the hole where his personal life should be has made him nothing if not more committed to his daily battles on the streets of Whitechapel. The fallout from his failure to catch Jack The Ripper – in particular the direct relationship between that vain pursuit and the loss of both his daughter and now, it seems, his wife – will forever haunt him. But Reid has enough on the table to keep his mind off the past; because Whitechapel, it seems, is falling apart at the seams.
The social and economic problems the borough suffers have never been more acute: the streets teem with anxiety and only occasionally restrained violence, and – as Sergeant Artherton constantly reminds him – Leman Street is dangerously under-manned.
Even his relationship with his closest allies is shifting. Not that Sergeant Drake's loyalty to Reid is ever in question, but changes in his own life mean that Reid may perhaps no longer count on the violent enforcement of his own will that Drake provides. And as for Captain Jackson – loyalty is not something Reid has ever come to expect from the man, but he has got used to relying on his expertise – skills, however, that may no longer be available to Reid if Jackson's own ambitions are to be met…
Despite all this, Reid's determination to fight evil and entropy with all the strength he might muster remains undimmed. It is a commitment, however, that, as the series develops, will exert ever-more-punishing demands on him. Just how far will Reid go to ensure that good will prevail? And what will be the cost to his own soul?
Captain Homer Jackson – Adam Rothenberg
At first glance perhaps, Captain Jackson might seem tamed. He is a fixture at the Leman Street station house these days, and his womanizing ways have been replaced by a re-commitment to his wife, 'Long' Susan Hart. Were it not for the fact that they live in a brothel, his life might actually seem normal.
Yet beyond this, he yearns for a new freedom. Not that he wishes to leave Susan. Far from it – he wants to take her with him. To see the world in a manner befitting his louche ambitions. As far as he is concerned, he and Susan have laid their past to rest and have no need any longer to hide in the lawless chaos of Whitechapel.
Harsh realities are soon to intrude on his life, however. Not only are those fantasised ambitions under threat, but so is the security of his home. His free-spirited and reckless past meant that he had no idea of, and no interest in, just how it was that his wife was able to finance the birth and growth of the Tenter Street bordello. He is soon to find out, though. And when he does, his and Susan's lives are to be changed forever.
Sergeant Bennet Drake – Jerome Flynn
Much has changed in Drake's life. He has found the domestic security he has always craved and married the young woman, Bella, whom he saved from the grip of the trafficker Victor Silver.
Whether this has affected his ability to act as Reid's brute enforcer, it is perhaps hard to tell as yet. For unrelated reasons, Leman Street's methods of interrogation find themselves under the harsh glare of scandal – a questioning which, as the series develops, comes to lodge in Drake's own mind. Just what price will he – and, by extension, Reid, his master – have to pay for the violence they have meted out in the Leman Street cells?
Drake's fundamental decency will be no match for the payback he finds fate to have in store for him.
Long Susan – Myanna Buring
As with Captain Jackson, 'Long' Susan Hart finds herself freed from her original need to hide out in Whitechapel. But unlike him, for her, the Tenter Street brothel has come to feel like home. She is happy there.
It is a happiness that is not to last, however, because a new secret is soon to be revealed – one about which even Captain Jackson himself had no idea.
For Susan is in debt. A debt she took on to finance her original leasing of the Tenter Street site, a debt provided to her by a far-from-legitimate source. At the time, of course – wanted by the law, living anonymously – she had had no choice but to accept the terms of this loan. And she has made a success of her venture. A success of which that original lender now wants his share. A share which is not only to be counted in coin, but in the flesh of Long Susan herself.
It is a demand which forces Susan to examine the morality of just what work it is she has performed for her profit; for this vile and ruthless moneylender – Silas Duggan – will come to demand a similar act from Susan herself.
Rose – Charlene McKenna
Since the events of the first series, Rose has held true to her avowed intention to leave the life of a prostitute behind her – a commitment that has come laden with sacrifice. She moves from boarding house to boarding house, but has found work as a waitress at the music hall, Blewett's Theatre of Varieties. Not that she lacks ambition for herself. She is determined to one day make it on to the stage itself.
Elsewhere, the news that Bennet Drake has married has hit her hard. She may deny it, but she feels the loss of him keenly.
Detective Sergeant Albert Flight – Damien Molony
As an Irishman in the Metropolitan police, Flight is already marked out as an outsider. Securing Reid's trust and respect is an even harder task, however, for Reid sees in him only a reminder of the violent and tragic loss of another young man, PC Dick Hobbs.
But Flight is to prove himself not only worthy of Reid's respect, but also unworthy of the kind of innocence that drew such affection to Hobbs. For Flight is a man of secrets. Secrets at which the men of H Division could never even guess.
Inspector Jedediah Shine – Joseph Mawle
Ten years an Inspector on the Hong Kong police force, Shine has used that experience to exert a firm grip over Limehouse's neighbouring 'K' Division and the emergent Chinatown that grows within it.
An officer both feared and respected by all, he is, however, a man obsessed by his own power and will – a will that has corrupted him and, if he has his way, will corrupt all and everything that falls within his reach.
As such, he is Reid's amoral nemesis. Where Reid is restricted by both the law and morality, Shine suffers no such restriction. If Reid cannot find the resources to defeat him, Shine is a monster that might swallow his world whole.
Silas Duggan – Frank Harper
At first glance, Duggan is merely a barber, happily plying his trade from behind the candy swirl of his barber's pole on Finch Street. Such a front is a convenient one, because Duggan is a man of power and further ambition.
He may be the man who leased his property to 'Long' Susan, and who lent her the funds to get started in business, but his reach and goals go further than simply the profits of a slum-landlord. A man of ruthless and near-psychotic intent – just as the British Empire has extended its reach over the last century, Duggan intends to do the same throughout East London.
Bella Drake – Gillian Saker
A girl saved from the life of a prostitute by the love of Sergeant Bennet Drake, she returns that love fiercely and knows that the commitment of such a decent man is more than she could have ever expected from her life as one of Susan's girls.
And so her life with Drake is a happy one – happy, that is, until her own past life comes calling at their happy home.
Jane Cobden – Leanne Best
Jane Cobden was the first woman to be elected to the London County Council as councillor for Bromley and Bow. One of the giants on whose shoulders the Suffragette Movement was to stand, she is a bohemian and a committed defender of the downtrodden and abused.
As such, she is to find much in common with Inspector Reid, a man whose occasional inclination towards introspection and seriousness she is ready to puncture with a keen and affectionate wit.
Sergeant Donald Artherton – David Wilmot
Artherton's position behind the Leman Street dock is as adamantine as ever. Which is not to say the ever-growing chaos on Whitechapel's streets does not concern him deeply – from behind that beard, H Division's vigilant desk sergeant can see disaster looming.
Fred Best – David Dawson
Despite the removal of his ear by the vicious Pinkerton renegade, Frank Goodnight, Best's commitment to sensationalism remains undimmed. Wearing his deformity with easy pride, he is, as ever, both aid and impediment to Reid's inquiries.
Chief Inspector Frederick Abberline – Clive Russell
As with Reid, Abberline has watched the memory of the Ripper fade from London life. But his fears for the fragile peace of East London remain as sharp as ever they were.
He understands the role that the police must play in keeping the lid on the powder keg of those boroughs and, as Reid's de facto boss, will not allow his old friend to become distracted from that priority – a position that regularly brings the two men into conflict with each other.